10 February 2021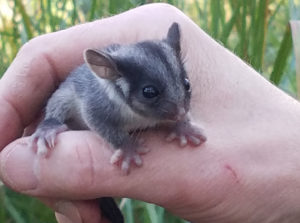 Community groups in the Yarra Valley are taking action to protect two of Victoria's faunal emblems – the Helmeted Honeyeater and the Leadbeater's Possum – thanks to funding through Yarra4Life.
Both species are critically endangered and only found in Victoria. Five community groups have received small grants totalling $23,089 to undertake activities that will restore and protect habitat and secure a future for these unique animals.
Kacie Melfi, Yarra4Life Coordinator said that community groups are the front line in protecting species like these from extinction.
"We're really pleased to be able to support these community-driven projects; they are out in the reserves and private properties doing the hard work.
"Each project adds another piece to the broader recovery effort and contributes to ensuring our faunal emblems remain in the wild for generation to come."
Project work will include weed removal to improved existing habitat areas, revegetation to improve the quality of existing habitat and to create new habitat areas and a camera monitoring program.
Funded projects
Johns Hill Landcare Group: Back to Butterfield
Macclesfield Landcare Group: Wildlife Monitoring, Recording & Reporting
Earthheart Foundation Inc: Holly Away so our Leadbeaters Stay!
Friends of the Helmeted Honeyeater Inc (joint application with Friends of Leadbeater's Possum Inc): Greening the Green – Reversing the Decline of Habitat for Helmeted Honeyeater and Leadbeater's Possum at Green Site, Yellingbo NCR
Friends of Leadbeater's Possum Inc: Enhancement of habitat for Lowland Leadbeater's Possum in YNCR
These projects are supported by the Yarra4Life with funding from the Victorian Government's Faunal Emblems Program.

(Juvenile lowland Leadbeater's Possum image by Kylle Fideler)