1 June 2018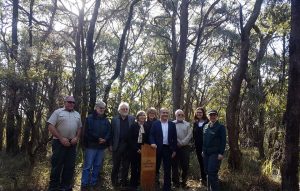 Today (1 June 2018), the Hon James Merlino, Deputy Premier of Victoria announced another great win for the critically endangered Helmeted Honeyeater and lowland Leadbeater's Possum.
Friends of the Helmeted Honeyeater and Trust for Nature secured funding through the Judith Eardley Save Wildlife Association and the Myer Foundation to purchase 19.66 ha of intact high quality habitat.
Yarra4Life funded a range of environmental works on this land in 2011-12, so it is wonderful to see that this legacy will live on.
With the support of DELWP and Parks Victoria this land will become part of the Yellingbo Nature Conservation Reserve, ensuring it remains protected for these species.