20 April 2018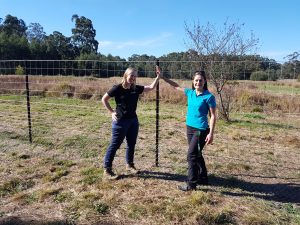 The PPWCMA and Friends of the Helmeted Honeyeater were excited to see fencing work completed at Burrungma Biik in preparation for major revegetation works.
Stage One of this multi-year rehabilitation project will see the removal of environmental weeds, such as willow and blackberry, and the revegetation of about 1.7ha of Yellingbo Nature Conservation Reserve with 42,000 plants
This rehabilitation project will provide crucial feed and breeding habitat for the critically endangered Helmeted Honeyeater, Victoria's bird emblem, and the fencing will protect everyone's hard work from feral deer and pesky locals such as wallabies and wombats.
Burrungma Biik is 2.3ha of high priority Helmeted Honeyeater habitat that was purchased in 2017 with thanks to funding from the Australian and Victorian government's and Trust for Nature.
A further 1.2 hectares of the Yellingbo Nature Conservation Reserve has been included in this rehabilitation project.
This project is supported by Yarra4Life through funding from the Australian Government's National Landcare Program.