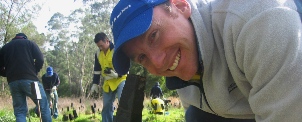 Local electricity distributor, SP AusNet undertook a planting day for SP AusNet staff in 2008 and had a great day out getting their hands dirty for the environment. The organisation donated $5,000 and the Lilydale employees planted over 1,300 seedlings at Yellingbo Nature Conservation Reserve in conjunction with the Yarra4Life biolink project.
SP AusNet's environmental goals are as follows "we strive to be a leader in the management of environmental issues associated with energy delivery infrastructure for gas and electricity networks in Australia. We are committed to creating a sustainable business – a business that seeks to balance the environmental, economic, and social needs of today without sacrificing the interests of future generations."
Planting days are a great way to test drive investment in an environmental project and are always a good way to give your employees a sense of contribution to their local environment.